Archives for the month of:
May, 2014
Francesca Mataraga's 'Spaces for Leisure (an installation for AirSpace Projects)' is opening on Thursday 5 June between 6.00 and 8.00pm. The exhibition will run from Friday 6 June until Saturday 21 June. Francesca Mataraga is a site responsive artist who has created some phenomenal installations including 'a to b (wall work for Articulate Upstairs)', Vitrine (Kandos Projects) and Elisabet at Queen Street Studios/Frasers. We are thrilled to be hosting 'Spaces for Leisure (an installation for AirSpace)' and look forward to seeing how this wonderful artist transforms our space.

Francesca Mataraga, a to b (wall work for Articulate Upstairs), 2013. Photo credit: Johan Palsson.
This project has been assisted by the Australian Government through the  Australia Council, its arts funding and advisory body.

Ajay Sharma, 2014. From the Speed of Life series.
AirSpace Projects and SquarePeg Studios are proud to announce that Ajay Sharma is coming to Marrickville in July to exhibit his work and to run two five-day Miniature Painting workshops. Only a limited number of students will be accepted into the workshop. For more information and enrolment go to SquarePeg Studios.
Sharma is a freelance artist and Master Mughal Miniature Painter of the Rajasthan School who has been supervising a studio of employees and students in Jaipur, India, since 1984. From 1979 until 1984 he was apprenticed under the direct tutelage of Master Painter Mahendra Sharma in Jaipur, India.

Ajay Sharma, 2014. From the Zodiac series.
Sharma has built an international reputation based upon the many artists and students who have passed through his school and as a result of his teaching and exhibition history both in India and abroad. In 2010 he exhibited his collaborative works with artist Julie Evans in 'Cowdust' at the Julie Saul Gallery, New York. The exhibition received significant reviews in Art in America (Anna MeCugni, January 2011), Art Forum (Ida Panicelli, February 2011) and Vogue Italia (Emanuel, Lugli, November 2011). He has taught miniature painting at the Jaipur Virasat Foundation; the Virginia Commonwealth University in Doha; the University of Baroda; the Sanskriti Kendra in New Delhi; the Ahmadabad Fine Arts College and the Prince's School of Traditional Arts in London.

The work of Francine Haywood, first time student of Ajay Sharma.
Ajay Sharma is an expert in the field of Mughal miniature painting, conservation and copy work. He has formidable knowledge in the research, preparation and practice in pigments, composition and drawing, brushes and gold leaf. He specialises in all types of miniature and mural painting including Tantra painting, Rajput Painting, Kota School and Jaipur School, Rajput and his practice spans new creations, collaborations, traditional style, portrait painting and commission work. His major preservation and conservation projects include the Heritage Hotel Samode Palace and the Multan Estate in Jaipur, India.
The incredible contemporary textile artist Alex Falkiner is back!  Alex is running another of her successful Drawing with Thread Workshops at AirSpace Projects/SquarePeg Studios on Sunday 18 May from 2.00-4.00pm.
For bookings follow this link to Eventbrite
What happens when you approach stitching as a kind of mark marking?
Join visual artist and maker Alex Falkiner to learn a range of mark making techniques using needle and thread. Working with fabric with stitch you'll have time to experiment, combine, and layer the techniques to create interesting effects. All materials, tea and bickies provided. However you are most welcome to bring along an interesting base cloth (woven only, not stretch fabric) to work into. Bookings Essential.
Suitable for stitchers and non-stitchers, drawers and non-drawers.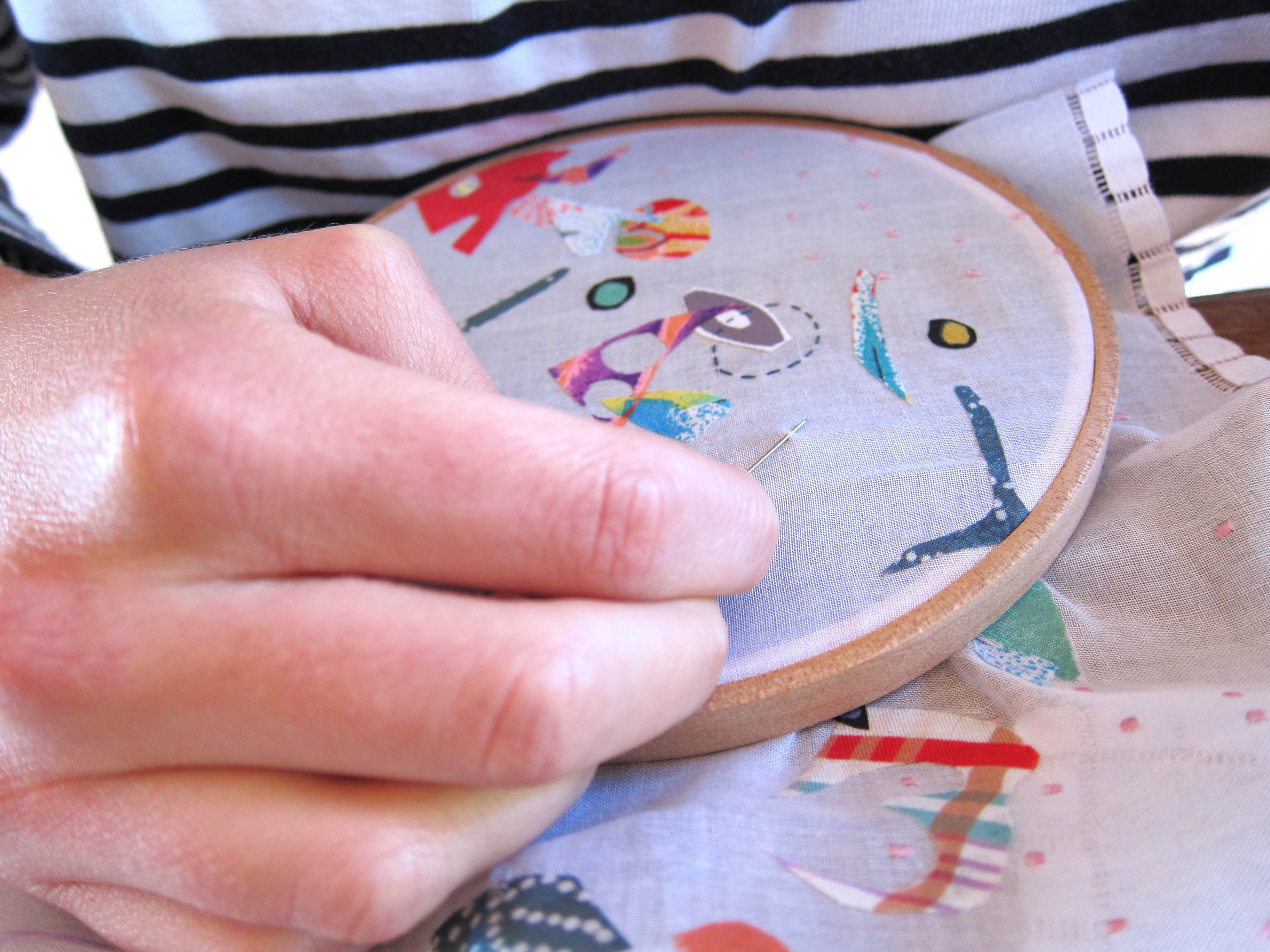 What people have been saying about the class:
"I loved the organic nature of this approach. Quite different to how I usually work and an approach I will definitely try out on my next project."
"I learnt that embroidering doesn't have to be perfect and that sometimes something that doesn't have too much structure is what makes it beautiful. I personally resonated with this because lately in my own work I have been trying to achieve a more free approach in what I'm doing and not being scared to make a mistake!"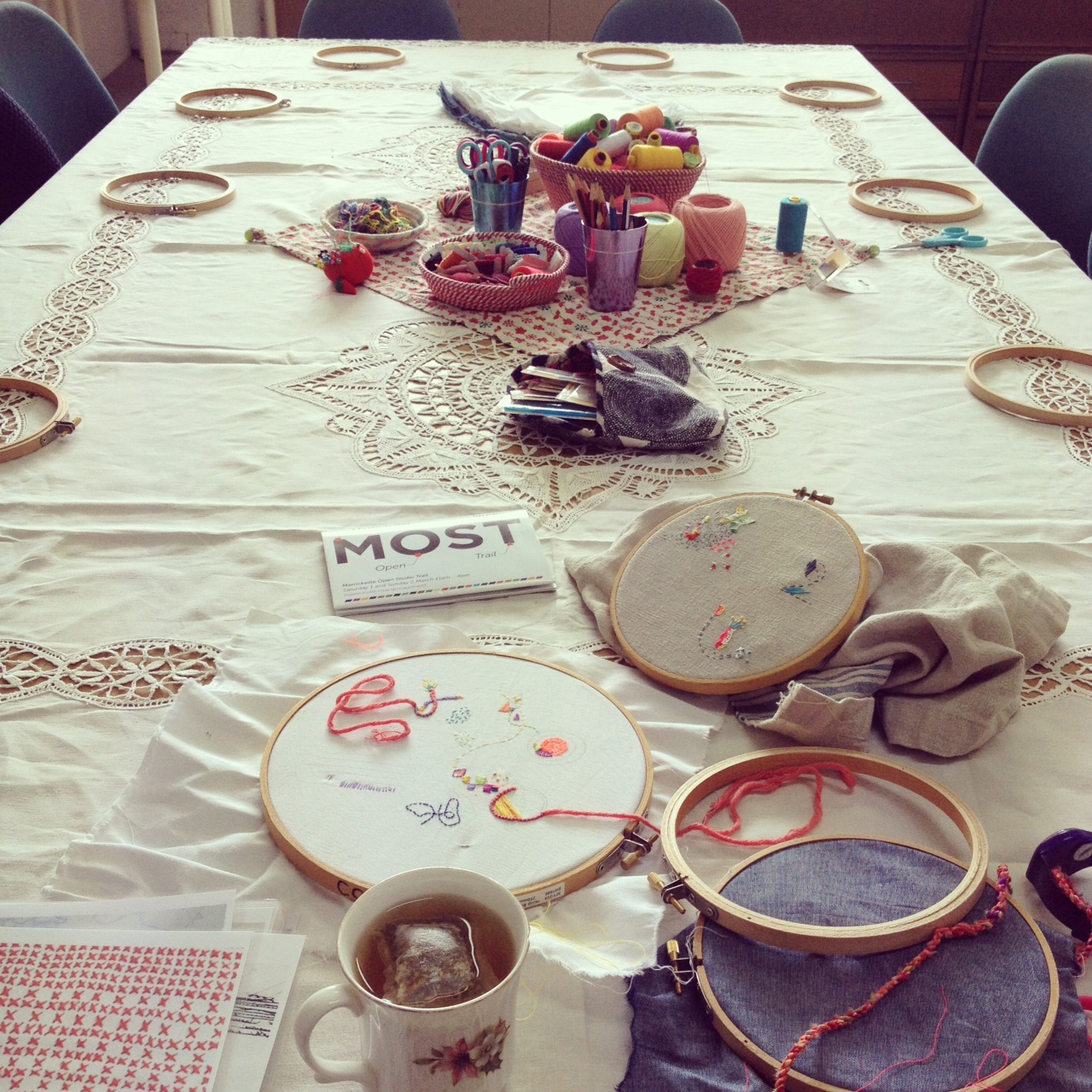 A bit about Alex Falkiner (aka Alfalky):
My workshops encourage playful, flexible and innovative approaches to hand-making. I like to keep groups small and intimate to allow for individual attention. Alex is excited about textile techniques because they are so portable, accessible, useful, beautiful and adaptable. Please join me in transforming 'at hand' materials into unexpected delights!
Experience? I've taught workshops for Kinfolk Magazine, Koskela, Object Gallery, Etsy, Bundanon Trust, Headspace, Gaffa Gallery, Q Station Manly, Woollahra Village Weekend, Work-shop, Gallery Lane Cove, Jurassic Lounge & the Sydney Children's Hospital.
Have questions about Drawing with Thread (Marrickville, Sydney)?
Contact Alfalky